Now available from Alpha New Cinema!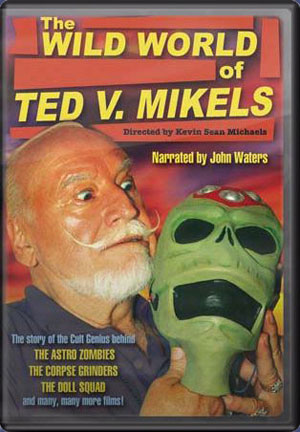 "A movie maverick gets his due" --Rue Morgue Magazine (cover article)
"Affectionate, informative and funny -- a must for Mikels mavens." --Yes! Weekly
"comprehensive & entertaining" --Scarecrow Video
Description by OLDIES.com
Meet independent grindhouse movie maverick Ted V. Mikels, who is celebrating his 60th anniversary making movies - wowing audiences with his own special brand of guts, gore, violence, and dark humor. From the grisly The Corpse Grinders, the early slasher epic The Astro-Zombies, to the far-out Girl in Gold Boots and countless others, Mikels tells his story for the first time in The Wild World of Ted V. Mikels by award-winning documentarian Kevin Sean Michaels, director of Vampira: The Movie.
Ted V. Mikels is a pioneer. In the 1970's, the concept of The Doll Squad was appropriated by television mogul Aaron Spelling for his own Charlie's Angels series (even down to using the character name Sabrina) and more recently inspired Quentin Tarantino with the turtle-necked look for the DiVA girls in Kill Bill. Ted shares stories of the William Castle-esque movie premieres that included nurses and ambulances on hand at the theaters to assist "scared-to-death" moviegoers. Plus, he reveals for the first time details of his private life in the sprawling Sparr Castle in California with a harem of women called the Castle Ladies!
Original cast members Tura Satana (Russ Meyer's Faster, Pussycat! Kill! Kill!, The Astro-Zombies), Shanti (Corpse Grinders II), Francine York (The Doll Squad) and Lila Zaborin (Blood Orgy Of The She Devils) recount their memories of working with Mikels, a director who had no cinematic limits.
Leading the tour is the inimitable John Waters, who is famous for directing Pink Flamingos, Cecil B. Demented and Hairspray. Get ready for a wild ride!
Trailer
Bonus material
Ted Returns to The Castle: The Secret Lives of Castle Ladies
Cutting in Camera with pin-up model Masuimi Max
Preview of Ted's new movie: Astro Zombies: M3 Cloned
Trailers and more!
Cast and crew
Starring Ted V. Mikels, John Waters (narrator), Tura Satana, Francine York, Shanti & Lila Zaborin
Directed by Kevin Sean Michaels
Where to buy
Available from Alpha New Cinema, Amazon.com
, and other fine DVD retailers.
Autographed copies are sometimes available at personal appearances by Kevin Sean Michaels and/or Ted V. Mikels. Please see our events page for details.