Return to Ted V. Mikels filmography
Alex Joseph and His Wives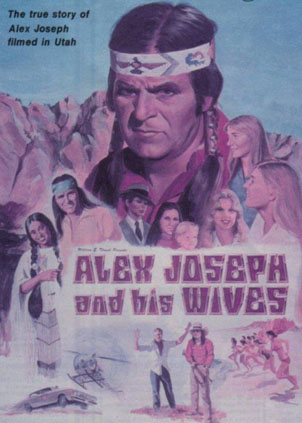 Synopsis from press book
The Story you are about to see is true. The names have not been changed to protect the innocent. The film is based upon actual incidents and played by the people they happened to -- Alex Joseph and his wives. All 105 minutes of color action were shot entirely on location in southern Utah -- where it really happened. Never before has a drama with these ingredients been brought to the screen.
All this was accomplished without the cooperation of any federal bureau. The story is necessarily filmed under armed guard and carried forth despite the attempts of the U.S. Park Service to deny the right of access to public lands during filming.
In all respects "Alex Joseph and His Wives" is a unique testimony to American ingenuity.
"The man who has raised the nation's eyebrows with his flaunting of the establishment, the man who claims 10 women -- young, attractive, intelligent women -- as his wives, the man who dares to do battle with the government . . ."
Now comes the true story of Alex Joseph, the one-man revolution whose devil-be-damned courage has arrested the attention of domestic and international press. Set to the long-striding pace of a man who walks through the world as though he owned it, the movie is filled with Joseph's romances and challenges, his friends and enemies. This man lives more in a week than most people do in a lifetime! The movie is laced with the adventures and escapades of the people who look for Joseph. Some of them are comical, some are deadly serious -- but they all find out that whoever thinks he has an eye on Alex Joseph should look over his own shoulder to see who's really doing the looking . . .
An amazing portrait of an outrageous and beautiful family . . . This true story is more incredible than any fiction. In outrage or admiration of this revolutionary polygamist lifestyle, you will be left wondering -- what will they do next?
More information
Where to buy
Not available.