2011 News Archive
Oct. 2011
The Wild World of Ted V. Mikels to screen at Oddball; Meet Director Kevin Sean Michaels in person!
On Saturday, October 15th, 2011, the unique and aptly-named Oddball Film+Video will present a Salute to The Golden Age of Exploitation with The Wild World of Ted Mikels, Spook Show featuring Little Miss Muffin by Renya Young plus vintage William Castle (The Tingler) trailers. Note: A nurse will be on duty in case you start to die of fright! American filmmaker Ted V. Mikels holds a unique position as one of the most unconventional directors of exploitation cinema. Famous for his eccentric home life (he once lived with a harem in a castle with secret passageways) and promotional gimmicks, Mikels is now considered a pioneering master of low-budget movie making.
Date: Saturday, October 15, 2010 at 8:00PM
Venue: Oddball Films, 275 Capp Street, San Francisco 94110
Admission: $10.00
Limited seating! RSVP to: 415-558-8117 or [email protected]
Flyer: PDF
Announcement on Twitter -- please retweet!
Aug. - Sept. 2011
Mikels and Michaels, as busy as ever
Ted's enthusiasm for filmmaking, so eloquently expressed in The Wild World of Ted V. Mikels, continues unabated. He is currently working on Astro Zombies M4: Invaders From Cyberspace (AZM4 for short), the fourth film in the Astro-Zombies franchise begun all the way back in 1968. We've recently updated our website with the latest news about the filming of AZM4 in Berlin and the new trailer. The prior film, Astro-Zombies: M3 Cloned, was released on DVD last year.
Kevin Sean Michaels, the director of The Wild World of Ted V. Mikels and one who has worked with and learned from Ted, is newly back from Comic-Con where he promoted his new animated short Ingrid Pitt: Beyond The Forest. It was a pleasure meeting everyone who stopped by the table to chat.
Our webminion has been busy as well, adding new pages with links to sites about Ted V. Mikels and mentions of him in the news (that don't specifically mention The Wild World of Ted V. Mikels). There's a wealth of information here to read, watch, and listen to, so check it out when you get a chance. We'll be adding more material as we come across it.
Poster now available from Alpha New Cinema
If you haven't yet bought a DVD of The Wild World of Ted V. Mikels, or you're thinking of buying another for a friend, you may be happy to learn that you can now get a matching poster of the cover art for only $5 more. Head on over to Alpha New Cinema (at Oldies.com) and take advantage of this great opportunity to put a big green Astro-Zombie head on your wall, as well as Ted with his trademark moustache. (Not recommended for bedrooms of those subject to nightmares. Good night, sleep tight, don't let the Astro-Zombies behead you with a machete!)
April - July 2011
Meet director Kevin Sean Michaels at Viva Las Vegas Rockabilly Weekend
Meet the director of The Wild World of Ted V. Mikels Kevin Sean Michaels and surprise guests at Viva Las Vegas in Las Vegas at the Orleans Hotel and Casino, Thursday, April 21 through Sunday, April 24, 2011. Kevin will be signing every day at the Hollywood Book and Poster booth in the dealers' room. Check the booth for signing times.
The Orleans is located at 4500 West Tropicana Avenue, Las Vegas, NV 89103.
Viva Las Vegas is the biggest rockabilly party in the world! It features a car show, burlesque competition, vintage fashion show, and of course music and dancing -- check out the event list to get details on all the fun. Hope to see you there!
Grindhouse Film Fest Tribute To Tura Satana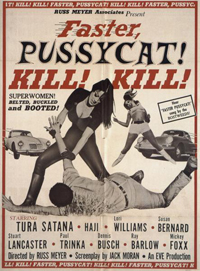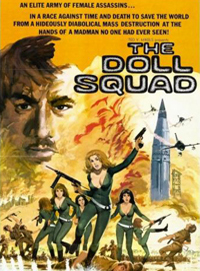 Quentin Tarantino's New Beverly Cinema presents The Grindhouse Film Fest Tribute To Tura Satana on April 13 and 14, 2011. This double feature includes Russ Meyer's Faster Pussycat! Kill! Kill! at 7:30 PM and Ted V. Mikels' The Doll Squad at 9:30 PM. The New Beverly Cinema is located at 7165 West Beverly Blvd., Los Angeles, CA 90036.
VAMP Productions will be sponsoring the event with giveaways of Tura Satana T-shirts and DVDs! Buy your tickets here.
60 Years of Filmmaking
— 1 Movie! Now available from Alpha
We are pleased to announce that The Wild World of Ted V. Mikels is now available on DVD from Alpha New Cinema! Alpha also distributes many of Ted V. Mikels' other films, including 10 Violent Women, Blood Orgy of The She-Devils, The Corpse Grinders, and Girl in Gold Boots.
The Wild World of Ted V. Mikels is a new documentary directed by Kevin Sean Michaels and narrated by John Waters. "This documentary manages to squeeze sixty years of cinematic innovation into one informative and entertaining film," says Jason Buchanan of All Movie Guide.
Meet independent grindhouse movie maverick Ted V. Mikels, who is celebrating his 60th anniversary making movies and wowing audiences with his own special brand of guts, gore, violence, and dark humor. From the grisly The Corpse Grinders, early slasher The Astro-Zombies, the far-out Girl in Gold Boots (which was featured on The Mystery Science Theater 3000) and countless others, Mikels tells his story for the first time in The Wild World of Ted V. Mikels by award-winning documentarian Kevin Sean Michaels, who brought you Vampira: The Movie.
Original cast members Tura Satana (Russ Meyer's Faster, Pussycat! Kill! Kill!, The Astro-Zombies), Shanti (Corpse Grinders II), Francine York (The Doll Squad) and Lila Zaborin (Blood Orgy of the She Devils) recount their memories of working with Mikels, a director who had no cinematic limits. Leading the tour is the one-and-only John Waters, who is famous for directing Pink Flamingos, Cecil B. Demented and Hairspray. Get ready for a wild ride.
March
We've been nominated for a Rondo!
We're thrilled to announce that The Wild World of Ted V. Mikels has been nominated in the "Best Independent Film or Documentary" category in this year's Rondo Hatton Classic Horror Awards. The Rondos, now in their ninth year, are fandom's only classic horror award, decided by fans, for fans, and dedicated to preserving the undying spirit of monsters past.
The full list of nominees is a who's who of horror, so please take a look at the ballot and let the nominees know how much you appreciate their work by voting. All voting is by email only, and the deadline is March 27. The full ballot has all the details.



February
Tura Satana, R.I.P. 1938 - 2011
Click here for a video excerpt from The Wild World of Ted V. Mikels of Tura talking about how she met Ted, along with an outtake clip of her talking about Russ Meyer's Faster Pussycat! Kill! Kill!
January
Ted V. Mikels' Astro Zombies Coming Again To Florida
TVM Global Entertainment, in association with Blue Heron International Pictures, announced today that the new year will see another close collaboration between the two film companies.
"We are starting the year off with ASTRO ZOMBIES M4: INVADERS FROM CYBERSPACE," said associate producer Richard Lester.
"Our award-winning director, Gary Lester, will be working as assistant director on principal photography in Las Vegas in March, alongside legendary director Ted V. Mikels. Gary will also be working as second unit director for all of the scenes to be shot in Florida. We are scouting locations and establishing a talent pool of Florida actors as we speak."