FOR IMMEDIATE RELEASE
June 2, 2008
John Waters to Narrate Documentary Film "The Wild World of Ted V. Mikels"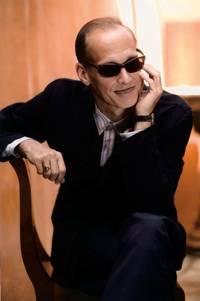 [Las Vegas, NV] "The Wild World of Ted V. Mikels," a new documentary by Kevin Sean Michaels ("Vampira: The Movie"), is a rollicking look at the independent cinema of Ted V. Mikels, who has been producing films for over 60 years. Mikels is considered a maverick of low-budget movie making and is still making movies at age 79. In "The Wild World of Ted V. Mikels," Mikels himself tells his fascinating life story.
Way before low-budget action films were termed "grindhouse," Ted was wowing audiences with his own special brand of guts, gore, humor, violence, and -- most of all -- style.
Filmmaker Ted V. Mikels was born on April 29, 1929 in St. Paul, Minnesota. As a child, Mikels was selected and cast out of a group of three hundred boys to play the son of Merle Oberon and William Powell in a Hollywood film. The film never went into production, but Mikels got the show business bug. At fifteen, Mikels began doing professional magic, ventriloquism, acrobatics and accordion solos. In 1960, the enterprising young Mikels relocated his wife and six children from Oregon to Hollywood with the film-cans of his first movie, "Strike Me Deadly." Mikels began steadily producing. "The Black Klansman," "The Corpse Grinders," "The Astro-Zombies, "Girl in Gold Boots" and "The Doll Squad" followed, and challenged the major movie studios by setting box-office records. Audiences for a Ted V. Mikels production were treated to gimmicks such as nurses and ambulances on hand at the theaters to assist "scared-to-death" moviegoers. His private life became legendary. In the 1970's, Mikels lived with a harem of women in a castle with secret passageways. In the 1980's, Mikels moved from California to Las Vegas, Nevada and opened a studio, where he has been producing movies ever since.
Examples of Mikels' influence can be seen everywhere: from music (punk band The Misfits wrote a tribute song called "The Astro-Zombies"), to Mikels' film "The Doll Squad" being the template for the television series Charlie's Angels, to inspiring the look of the Deadly Viper Assassination Squad in Quentin Tarantino's "Kill Bill."
Fellow director John Waters ("Hairspray," "Pink Flamingos," "Cry-Baby") has been tapped to narrate the new documentary.
"Ted V. Mikels puts the 'exploit' in exploitation films," said Waters. "He's pretty amazing."
New interviews include Tura Satana (Russ Meyer's "Faster Pussycat Kill! Kill!" and Ted Mikels' "The Astro-Zombies" and "The Doll Squad"), Francine York, Lila Zaborin, plus actors who have worked with Ted on his new feature film "Demon Haunt" as well as his other productions.
"The Wild World of Ted V. Mikels" will be in preview screenings in summer 2008 in New York City; New Jersey; and San Diego, Los Angeles and San Francisco, CA before showing on the film festival circuit in the fall. Documentarian Kevin Sean Michaels will be doing Q & A at the screenings. This is his second documentary.
Official website: http://thewildworldoftedvmikels.com/
For more information on Ted V. Mikels, visit www.tedvmikels.com. For more information on Kevin Sean Michaels, visit www.vampirathemovie.com.