Click here for 2008 - 2009 press
Press 2010
The Phantom of the Movies' New Release Shelf
Review by Rob Freese
(Excerpts)
[Rated 3 1/2 out of 4, defined as Excellent!]

At last, the incredible tale of Ted V. Mikels is told in this video documentary! . . . Watching one of Mikels' films, especially those made during his prime, from the '60's to early '70's, is pure joy. His films were perfect features for the drive-in era, delivering a special blend of thrills and chills that seemingly no longer exists in films today. This disc is a great introduction to Mikels' films. Fans will no doubt enjoy the interview segments with the iconic director himself, happily recalling triple-feature movie premieres complete with nurses in the lobby, Certificates of Assurance and ambulances circling the theater. Fans will also be delighted to know that this disc's release coincides with the debut of Mikels' newest film, Astro Zombies M3: Cloned, which has played sold-out crowds at various fests and special showings across the country.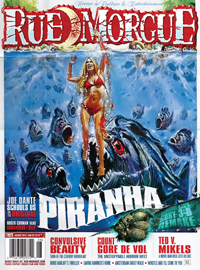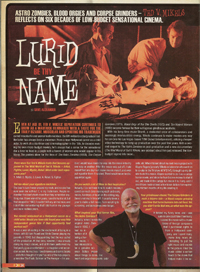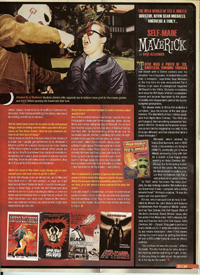 Lurid Be Thy Name
Astro Zombies, Blood Orgies and Corpse Grinders - Ted V. Mikels reflects on six decades of low-budget sensational cinema.
by Dave Alexander
(Excerpts)
Even at age 81, Ted V. Mikels' reputation continues to grow as a maverick filmmaker with a taste for the truly bizarre. Muscular and sporting his trademark curled moustache and animal tooth necklace, the DIY writer/director/producer/editor/actor has always been a showman. From a near-Hollywood career as a child actor, to work as a stuntman and cinematographer in the '50's, to decades making his own micro-budget movies, he's always had a sense for the sensational (for a time he lived in a castle with a harem of women who would appear in his films).

. . .

You've asked your actors to do some pretty outrageous things, such as eating worms when you were the producer on The Worm Eaters. How do you convince actors to do that sort of thing?

I try to make so much fun for everybody in the making of a movie that I usually get performers to do whatever it takes to put the story across. . . . When people are having fun, they'll do whatever they might not normally do. Sensationalism is also a great motivator. If actors know that what they might do will make people talk about them, they do it. It's a quirk of the nature of entertainers.
The Wild World of Ted V. Mikels

Director, Kevin Sean Michaels, uncovers a truly self-made maverick
by Dave Alexander
(Excerpt)
"There was a photo of Ted, shirtless, running through the desert with a 35mm camera over his shoulder like a bazooka. He looked like a wild man, a renegade," says Kevin Sean Michaels of the first time he ever encountered Ted V. Mikels, in an issue of underground magazine RE/Search in the 1990's. Michaels immediately sent away for VHS tapes of Mikels' exploitation movies and became fascinated by the unpredictability and independent spirit of the barely-budgeted productions.
Bonus: This issue also includes interviews with many active horror hosts, including Penny Dreadful XIII and Svengoolie (both seen in Vampira: The Movie); a list of the top six "Resurrected Water Rotters" -- hey, there's our composer Ari Lehman, as Friday the 13's Jason -- in the number one spot!; and the usual smorgasbord of fascinating articles, interviews and reviews.
video vault
by Mark Burger
John Waters narrates this documentary tracing the 60-year career of B-movie auteur Ted V Mikels, whose credits include The Corpse Grinders, The Doll Squad and The Astro-Zombies. Affectionate, informative and funny -- a must for Mikels mavens.
A few questions with a man who played an astro-zombie
by Matt Soergel
(Excerpt)
Ed Tucker is a mild-mannered 43-year-old from Mandarin, a big fan of a cult filmmaker whose latest work, as the poster makes clear, is about creatures whose "demented brains lead them to kill, kill, kill."

That would be Ted V. Mikels, an eccentric octogenarian auteur with a white Salvador Dali-mustache and a resume that includes "The Corpse Grinders," "Blood Orgy of the She Devils" and "Ten Violent Women."

Tucker, an author and film historian, is bringing Mikels' newest film to the 5 Points Theater in Riverside on Saturday night.
Quick & Random: Ted V. Mikels (Interview)
(Excerpt)
Wildside Cinema: You've had a long, varied filmmaking career. How did you get started making low budget films in the early sixties?

Ted V. Mikels: Actually, I started shooting movie film on a Keystone camera in 1949. I spent almost all of the nineteen-fifties making my first movies, like Dream Man, A Tall Tale, Yellow Roses, Fool's Prosperity, Compelled and a number of others with 16mm Bolexes. Then in 1959, I wrote and started filming in 35mm, my first theatrical feature movie Strike Me Deadly. Only obsession with making movies got me started.

WC: How do you feel about the seemingly renewed interest in grindhouse films and cult classics in the movie industry today?

TVM: The term "grindhouse" is a relatively new terminology given the exploitation movies in the late fifties, sixties and seventies. I'm very happy that many of my movies that I created thirty to forty-five years ago are still around as if they never disappeared. That's more than I can say about a great number of multi-million dollar movies that are forgotten just months after they are made. The fact that they were "grinding away" in projectors day and night is what actually created the terminology of "grindhouse". The name has taken hold for now, but who knows how long this "description" will last?
Chat with Ted V. Mikels and Cory J. Udler
Interview: Ted V. Mikels
by Matt Sanborn
(Excerpt)
Ted V. Mikels is an American auteur, a filmmaker who produces, writes, directs and even stars in his own films. Best know for The Corpse Grinders and The Astro-Zombies, one of the all-too-few films to star the marvelous Tura Satana, Mikels has long been an inspiration to independent filmmmakers. After many lean years in the 80s and 90s, the last decade has seen renewed interest in Mikels and renewed activity on his part. He has produced two sequels to Astro-Zombies, Mark of… and Astro-Zombies: M3 – Cloned as well as a G-rated family film, Heart of a Boy. Mikles is also the subject of a just-released documentary about his career, The Wild World of Ted V. Mikels, directed by Kevin Sean Michaels and narrated by John Waters.

Mikels spoke with author Matt Sanborn for Mystic Skull about current and past projects.

Matt Sanborn for Mystic Skull: The original Astro Zombies was filmed over 40 years ago. In that time what have you learned about film making that you didn't know then, and how do you intend to apply to this movie?

Ted V. Mikels: Well, sixty years ago, I spent ten years making about ten movies for no-one to see but myself. Like Fool's Prosperity, Compelled, A Tall Tale, Yellow Roses, Dream Man, The Black Sheep, etc. I felt I needed to make these movies to be used as my self-teaching tools, BEFORE I made my first movie for the world to see. Years later, I felt ready to offer my first theatrical feature Strike Me Deadly, which movie started several actors on their movie careers (Janine Riley from Petticoat Junction, etc.) and enjoyed theatrical, international, and television release.
Click here for 2008 - 2009 press